Event Date: March 7, 2015
Language 4 ALL stages!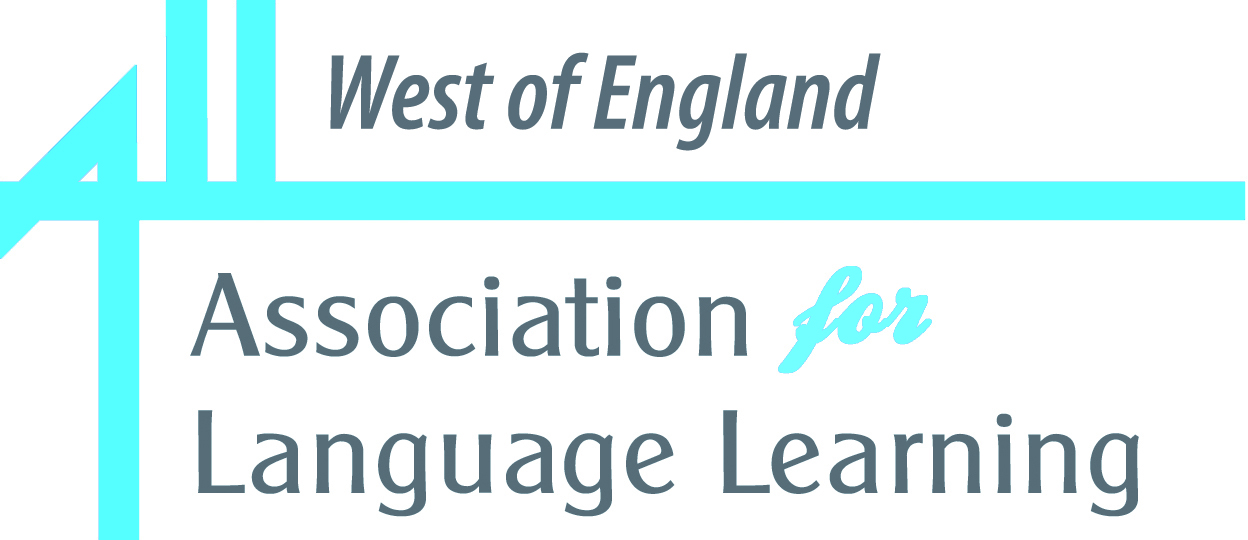 Time: 09.30 – 13.15
Date: 07 March 2015
Venue: Bradley Stoke Community school, Fiddlers Wood Lane, Bradley Stoke, BS32 9BS
Cost: PGCE students (£18), ALL individual members (£25), ALL group members (£30), Non members (£35)
Programme
Registration: 09:00 – 09:30
Information Stands: before conference (09:00 – 09:30) and in the break (10:45 – 11:15):
Edventure Plus Ltd – Exchanges and school partnership projects
Publishers' stands: SPONSORS of the refreshments
Talk and display by British Council after keynote (10.30-10.45)
Keynote Address 09:30 – 10:30 Liz Black: Progression in all stages
It has never been more important to ensure that we are building on prior learning. How can we ensure linguistic progression? Let's explore strategies together.
Choice of workshops: two of the following (Session A – 11:15 to 12:15, Session B – 12:15 to 13:15)
A1
B1

Liz Black

Managing the KS3 to KS4 transition effectively
There are great gains to be had when we spend time talking – to all teachers. Sharing not only the ''topics''/vocabulary covered, but also spending time discussing the attitudes and dispositions to language learning that the pupils have really helps. KS2 to KS3 when pupils actually change school is an obvious stage when this is necessary, but Y9-Y10 transition can also be crucial!
SECTOR RELEVANCE: 11-16

A2
B2

Joe
Dale

Creating eBooks to aid transition
In this session, using Book Creator Free and other iPad apps, Joe Dale will demonstrate how easy it is to create a multimedia eBook including engaging videos, animations and screencasts to provide evidence of language learning in the classroom and aid transition.

A3
B3

Linda Owen

KS2 to KS3 transition – the opportunities and challenges In this workshop we will examine some of the challenges to effective transition from KS2 to KS3, and consider some ways of dealing with them. While there is no magic wand, we will have a look at some different models of collaboration, where schools have tried to maintain the momentum in language learning and make this transition a smoother experience for the pupils. Examples will be in French and Spanish.

A4
B4

Nicola Maguire

KS4 to KS5 Transition
With the current GCSE format, students can begin AS level with few independent learning and/or linguistic strategies to enable them to engage and make the transition to the standard required at A level. This session aims to share a range of ideas to increase take up at A level, both inside and outside the classroom, and once they arrive, strategies to bridge the gap to linguistic independence.
Liz Black is a PGCE tutor at the University of York and a freelance author and consultant. She has taught languages for over 30 years to students of all ages, primary and secondary, and for this reason has a particular interest in ensuring effective linguistic progression. During the past 10 years she worked as a cross-phase Advanced Skills Teacher, supporting and delivering training in many different schools across North Yorkshire. She is a member of ALL's National Council and an active member of the Primary Steering Group.
Joe Dale is an independent languages consultant who works with a range of organisations such as Network for Languages, ALL, the British Council, the BBC, Skype, Microsoft and The Guardian. He is host of the TES MFL forum, former SSAT Languages Lead Practitioner, a regular conference speaker and recognised expert on technology and language learning.
Linda Owen is an experienced teacher who taught both French and German to A-level for several years, then spent 10 years as a primary class teacher. Her work as an AST for North Somerset led to a post at Gloucestershire Local Authority, where she developed Primary Languages across the authority. While there, she also became Head of the International Education Office, promoting international school partnerships for pupils of all ages. She has trained and supported teachers locally, regionally and nationally. She currently writes and delivers training on all aspects of language teaching in the primary classroom.
Nicola Maguire has taught for over 10 years. She is currently Head of Spanish and Second in the Languages Department at Backwell School. She is an enthusiastic teacher of Spanish and French and has been an active member of the ALL committee for 5 years. Nicola is an advocate of the TALK project, having worked alongside Peter Morris, and ran a TALK project workshop for the Open University.
For directions to the school, visit the school website
For more information, and to request a booking form, please contact: Marie-France Perkins
Closing date for booking: Wednesday 25 February 2014