Looking for ways to sustain the profile of languages post- European Day of Languages?  Noelia Rivas shares her top tips to make languages more prominent in school life.
Are you thinking of ways to give an extra dimension to language learning? Would you like to take languages outside your classroom and make them more prominent in school life? Or have you already made languages stand out in your school and you would like to try new projects? Here are some practical examples that will help you to raise the profile of languages in your school.
Language blogs
I am a great fan of educational blogs. You can publish so many things there: the pupils' work, homework, photos of letters and presents received from your partner school, cultural videos, songs, authentic stories, links to websites where your students can continue learning at home etc. Find my French blog here or read ALL's guest blogs on a range of themes in the Features area.
CLIL lessons
"A high-quality languages education should foster pupils' curiosity and deepen their understanding of the world. It should also provide opportunities for them to communicate for practical purposes." (DfE National Curriculum in England: languages program of study 2013).
CLIL stands for Content and Language Integrated Learning and refers to teaching subjects such as geography, history and science to students through a foreign language. We can enhance languages in our schools by establishing links with whole school topics. Our pupils will then make connections and consolidate their learning. Some of my pupils have told me that French lessons helped them to understand aspects of a topic that they did not understand before.
Creating CLIL resources can be hard work, but it is worth it. Your students will be incredibly motivated and they will love the challenge of learning another subject in the foreign language.  Find a range of CLIL topics and suggested activities via my blog.
School partnerships and international projects
This is by far the best way of giving a real dimension to the language taught. Your students will be very motivated and excited to exchange letters, videos and even meet their pen pals! One of my pupils said "This is a once in a life time opportunity to meet French children". In addition, school partnerships build intercultural understanding in context, as the children experience the culture first hand.
To find a partnership or an international project with several countries, sign your school up to the free e-twinning platform. It is a very popular platform where you will be able to exchange pictures, letters and videos safely with other schools around Europe. Another idea would be to sign up to Bili which which offers schools the opportunity to connect their students with their peers abroad via a language Exchange platform.
Assemblies
Embedding languages in whole school assemblies is a great way of learning languages with a real purpose. You can include finger rhymes, poems, songs, scripts etc. that are related to the theme of the assembly. Your pupils will feel very proud of performing in the foreign language and they will probably ask you to do more language assemblies! You can also do assemblies on language related themes and show and tell assemblies after meeting your partner school.
Language events
You can also grow language awareness in your students by celebrating international language events.
The International Mother Languages Day is celebrated on 21 February. Appreciating and promoting the mother tongue of your pupils will not only encourage linguistic diversity and build tolerance but also make them feel proud of their culture and identity.
Some activities you could do with your class can be found here.
Read a written case study: Embracing Mother Languages in Primary Schools.
Find more information on the Unesco website.
Language days
Another great way of promoting the foreign language and culture in your school is to organise a Language Themed Day. There are a lot of possible activities that you could do: cooking or tasting typical food, art inspired by artists of the foreign country, crafts representing the important monuments, dress in the colours of the flag, book a theatre or a storytelling performance, play authentic games from the foreign country etc.
Read more ideas in Madame Birtwistle´s blog.
Invite a theatre company into your school.  Take a look at Freshwater theatre company, theâtre transformations or Onatti Productions theatre company who can offer theatre experiences and productions.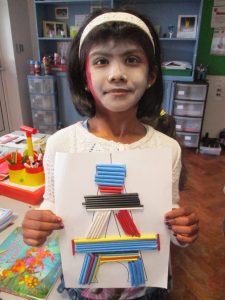 After-school clubs
Do you have notions of another language? Is there a colleague at school who speaks another language and whom you could support to teach an after-school club? Boost your students' language skills by offering a second language lunch or after-school club. You don´t have to organise the club as if it was another lesson, with less children in the class and more creative activities, the club will be more manageable. You may even consider offering Latin, which enhances literacy and provides a great foundation for later study of French or Spanish at Key Stage 3.
Grants and support for schools starting teaching Latin can be found at Classics for all.
I hope you will find these ideas useful and that they will help you to make languages come alive in your school. Raising the profile of languages can be challenging and time-consuming but remember that you are not alone! Share your thoughts with your head teacher and SLT and see what will work best for your school.
Noelia Rivas (BA Modern Languages, Université Catholique Paris, MA Translation and Interpreting, Universidad Complutense Madrid) is French Co-ordinator and Specialist Leader of Education for Languages. She has been teaching languages in secondary and primary schools in the US and in London since 2008. Her CLIL lessons have been filmed by Network for Languages for training purposes. Noelia has been awarded the ALL Primary Language Teacher of the Year Award 2017 for her creative approaches with well-developed CLIL topics, for having a good sense of pupils' progress linked to the curriculum, teaching lessons which are very popular (favourite subject for two years in a whole school pupil survey), and for offering internal and external CPD, as well as sharing ideas freely via her blog.
Further reading and resources for CLIL:
Read, ALL Council member, Lisa Steven's blog 'Superb ways to combine a language with PE.'
Download ALL's primary French CLIL history and geography modules 
Network for Languages lesson plans and resources to teach CLIL