Supporting Arabic in cooperation with ….
Marhaba and welcome to the Arabic Zone !
We all want to see the beautiful Arabic language thrive in the UK and the best way to do this is through sharing and learning from each other. That's why the Arabic Zone is being set up and we hope you'll take a look and see the fantastic range of resources that have already been posted. These are resources by teachers for teachers and we hope they will grow and grow. So please consider making a contribution however small and submit to [email protected] with 'Arabic Zone' in the title.
 Access to the ALL Arabic Zone is free to all at present and will remain free for members of ALL, the voice for all language teachers, including those working in community based schools. More than ever it is important for teachers of Languages  to work together. So, if you're not a member already, please consider joining. This will allow you access to many other resources, professional development events and the national Language World conference. You will also receive the association's magazine 'Languages Today'.
Amazing news for Arabic
Here we celebrate all things Arabic - language learners and teachers, cultural events,
support for teachers, and challenges and opportunities for learners. Let us know your Amazing News!
Welcoming languages
Welcoming Languages: Including a Refugee Language in Scottish Education
This project explores the inclusion of a 'refugee language' in Scottish education as a way to enact the idea of 'integration as a two-way process' that is at the heart of the New Scots Refugee Integration Strategy.
The project has involved education staff in learning Arabic to welcome new arrivals. The project report includes findings, such as:
Education staff who had been learning Arabic reported that they ' found that learning basic Arabic is practically useful: it allows them to use simple language to attract the children's attention; to give them some simple instructions; and to make connections between their learning in English and their existing knowledge.
Learning basic Arabic was found to have huge symbolic value. All staff interviewed told us that the Arabic speaking children greatly appreciated the efforts made by staff in their schools, and that they felt proud to be able to help staff practise Arabic.
NaTakallam
Offers award-winning, high-quality language learning programs delivered by refugees, for all levels of Arabic, Armenian, French, Kurdish, Persian and Spanish, as well as professional translation services to individuals and organizations worldwide. 
Congratulations and thanks
Congratulations, teachers of Arabic!
ALL is thrilled to be launching the Arabic Zone. Arabic language teachers, who volunteered to share their expertise, have been building this Zone to promote Arabic teaching and learning and to support the development of the Arabic teacher community. We much hope you'll enjoy discovering the resources available here and invite you to get in touch to share your own work and/or to recommend any resources.
Heartfelt thanks to the volunteers who have worked together to launch this Arabic Zone, including Sahar Y.I. Alshobaki, Seloua Aizeboudjene, Jim Anderson, Noreia Benhalima, Luma Hameed and Fatima Khaled.
Please visit other areas of the ALL website. All languages teachers have strategies in common and we here at ALL want to celebrate and support all languages teachers and their work.
The Arabic Zone depends on enthusiasts to share; over to you! Join the team!
Steven Fawkes and Judith Rifeser for ALL
Arabic and me
'Arabic and me' is a competition in New South Wales, Australia, involving digital skills (open in NSW only) which might inspire you to create a competition in the UK?
http://arabicandme.org.au/      
Have you read the latest copy of Languages Today?
The Arabic Zone is grateful to teachers who share their resources and recommendations here.
The copyright on these remains with their creator. 
Resources are proofread, but if typos still exist, please let us know via email.
Resources shared at the ALL Arabic Zone launch event June 2021
Teachers of Arabic from around the world joined ALL Members to launch the ALL Arabic Zone on Zoom ! They heard about the great work of volunteers in sharing content and the invitation to others to contribute their own ideas and then enjoyed an enthusiastic and joyful Show & Tell event; you can view a recording from Recent Events on this page. Some of the contributions are also listed here. 
'Resources for the Arabic classroom: Film, Video and Audiovisual Media'
This contribution offers a brief overview of the Film in Language Teaching Association (FILTA) and introduces some of the available resources (for example, the Arabic study guides) and the Arabic Group, led by Dr Salwa Mohamed. It presents the recent INSET, delivered by the Manchester Metropolitan research group Film, Languages and Media in Education (FLAME): Using Short Film Creatively in the Arabic Language Classroom, and resources, materials and links to videos. This workshop was part of the research project Transmedia in Education: New Approaches to Transmedia and Language Pedagogy, linked to the Cross-Language Dynamics (AHRC).
The final part of this presentation/materials invites Arabic Language Teachers to join FILTA (https://www.filta.org.uk) [free membership] and share resources related to this area.
Finally, the research group FLAME 
https://www.mmu.ac.uk/languages/flame/  welcomes possible research collaborations from Arabic Language Teachers working on this interdisciplinary field.
Noughts and Crosses with Powerpoint
Mevludin Shah presented in the Arabic Zone launch event his strategies for using triggers and images in Powerpoint to construct interactive language games. He shares this now on YouTube. 
Mevludin has other YouTube clips for teachers of Arabic that you will enjoy, and you can find his channel here :  
https://www.youtube.com/channel/UC-tGfIAVhIWK7ZIqZPWDRHg
and video clips, for example  on
Arabic vowels
Arabic letters
Arabic handwriting
Finger Puppets
Doaa Mohamed contributes this note about how she use Finger Puppets in Arabic teaching, as she demonstrated in the launch event.
I have seen so many of my students shy away from speaking during lessons. They somehow feel more confident and start speaking when they use one of my finger puppets. The lion  puppet "Assad" is especially a big hit with students of all abilities and interests.                                              
They use them to have fun practicing conversational skills, to make up stories, create new sentences and so much more.
Dooa says : 'Thank you for a heart-warming Zoom meeting "ALL Arabic Zone Launch". I learned a lot from all the creative teachers who participated, and hope to stay in connect with this wonderful group of people.'
First year of Arabic – scheme of work
British Council / QFI Arabic beginners scheme of work for year 7 (or for the first year of learning Arabic language) is available here: https://www.qfi.org/blog/arabic-study-plan-year-7-complete-beginner/
This scheme of work has been prepared to assist teachers of Arabic who are introducing the language to students who have no prior knowledge. It follows a similar approach to the one used for other modern foreign languages and seeks to establish a sound footing for learners who may go on to take the Arabic GCSE. The plan contains a termly curriculum map which outlines the main learning objectives and a detailed scheme of work that sets out the weekly language and culture content for the first year of Arabic learning. There is also an introduction which explains the thinking behind the design and format of the plan.
British Council is hoping to create some related lesson plans in the future.  
Email [email protected]
The AATT of curriculum planning - Dr Jennifer Eddy
Arabic Storytelling Workshop – British Council and Qatar Foundation International (QFI)
November 16, 2020
To celebrate International Education Week, British Council and Qatar Foundation International's (QFI) Arabic Language and Culture programme offered two opportunities for primary and lower secondary pupils;
An online, traditional, Arabic story-telling workshop for a maximum of 30 participants.
An opportunity to connect a class with a native Arabic speaker through the NaTakallam project where the speaker was be able to discuss Arabic language and culture with the class, as well as share their own experiences as a refugee.
Arabic Language Zone Show and Tell Webinar
Arabic Language Zone Show and Tell Webinar
Arabic Zone Webinar June 2022
This webinar welcomed Fatima Khaled to speak about her Project Based Learning work, based on language and Art.
Luma Hameed to speak about her e-publication for Secondary Arabic learners.
Please click here for Fatima's Presentation.
Please click here for the session recording.
ALL workshop for teachers: Using short films and videos creatively in the Arabic language classroom
Click here to view the ALL London Workshop
The padlet used at this event contains many useful resources, including a Film glossary and is available here
Shubbak: Walk With Us
For the 2021 webinar, Luma Hameed created some classroom activities for school teachers to follow up and attached them to this flyer.
Arabic Zone Webinar October 2023
In this webinar Luma Hameed gave an update from the Arabic Teachers' Council.
Seloua Izeboudjene talked about games and techniques to teach gender to small children
Mevludin Sahinovich (speaking in a personal capacity) spoke about encouraging speaking in the Arabic language classroom
and Kiyan-Mehdi presented his website Arabikey
Please click here to view the session recording.
Arabic Speaking competition
The British Council introduced this year an exciting opportunity for students at schools in the UK to demonstrate their Arabic language speaking skills. This event is sponsored by Qatar Foundation International (QFI).  The pilot British Council Arabic Speaking competition celebrated the achievements of students on 21st. May 2021.
You can read more here
Shubbak: Intercultural Journeys
Intercultural Journeys
Intercultural Journeys was an interactive webinar for students and young people aged 12 years plus taking place on 25 November 2021. Featuring the rapper Felukah, theatre director Omar Elerian and playwright Mudar Alhaggi, it explored self-expression, multi-culturalism and authenticity through the creative use of  the Arabic and English languages.
The webinar includes clips of the artists' work, live activities for students and a Q&A with the artists. 
More information here: https://www.shubbak.co.uk/intercultural-journeys/
Goldsmiths Arabic Certificate course 2022
World Arabic Language Day
World Arabic Language Day is 18th. December
Here is a poster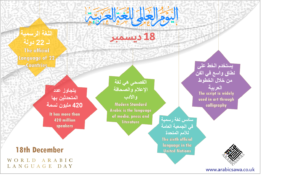 and some activities to help you celebrate with pupils.
Multilingual Digital Storytelling
Culture
For Ms N. Benhalima, learning culture is vital in MFL lessons because it puts the language into context. Here, she shows how students had to design a leaflet for an Arab country to include different cultural aspects such as food, clothes and dialect and present them to the class.
shared by Ms N. Benhalima (Westminster Academy, Teacher (Arabic, French).
Visual art and Arabic language learning
Arabic as One: Teaching Adult Learners of Arabic
Here Sahar Y.I. Alshobaki (PhD student, University of Roehampton) shares her research in progress on her approach to teaching Arabic by starting the engagement with a new student by asking them to create their personalised Learner's Vision.
QFI : Lessons learned
Please click here to be view the QFI Lessons Learned document.
Support and opportunities for teachers
Professional development for teachers of Arabic in schools
Jim Anderson's information sheet on QTS/CPD opportunities
Arabic network
There is a forum for teachers of Arabic on jiscmail :
UK Arabic Teacher Councils (ATCs)
The recently established UK councils are very active in offering CPD for teachers of Arabic.
https://www.qfi.org/opportunities/arabic-teacher-councils/
North West Teachers Council, hosted by Bolton Muslim Girls School
ATC leader: Fatima Mohamed
West Yorkshire Teachers Council, hosted by Leeds University
ATC Leader: Dr Rasha Soliman
Project support officer: Dr Shifa Askari
London and Southern England
https://www.gold.ac.uk/educational-studies/teacherscentre/arabic-teachers-cpd/
ATC Leader: Luma Hameed
The Arabic Teachers' Centre in London and Southern England offers a programme of CPD opportunities, and hosts the 'Creativity in Arabic Language Teaching Competition 2021'
Supported by QFI, there are councils in the US, Germany and the UK.
Using video in the Arabic Classroom
ALL supports teachers of all languages in learning from each other. Here Steven Fawkes shares introductory thoughts on how language teachers use video resources to support learning. If you have suggestions of video resources for use in lessons, or other strategies please share them with [email protected] who will add them here.
GCSE Arabic conversation
Reflections on the GCSE Arabic Speaking Test and sample useful questions by theme, thanks to Luma Hameed
Challenges and opportunities for learners
Creativity in teaching Arabic
The Arabic Teachers' Council (ATC) in London and Southern England is pleased to announce the 'Creativity in Arabic Language Teaching' competition 2021, funded by Qatar Foundation International (QFI).
This competition aims to encourage teachers to showcase their creative teaching styles and resources, and their impact on learning Arabic as a foreign language. The first three winners will be featured on social media, and in the ALL Arabic Zone, and will receive a prize.
Arabic language teachers are invited to submit their entry by 11/06/2021. Please e-mail Goldsmiths, University of London, teachers' centre, for the competition pack [email protected].
Use of digital tools
Ms N. Benhalima shares: "Following a challenging yet insightful and rewarding experience of teaching online throughout the pandemic, I have integrated different digital and platforms tools into MFL lessons to make them engaging and meaningful. These digital platforms were very useful for retrieval practice and also for different online assessments."
Noreia Benhalima The use of digital tools during lockdown 2.0 shared by Ms N. Benhalima (Westminster Academy, Teacher (Arabic, French).
Quizlet
In this post, Ms N. Benhalima shares her Quizlet work. She notes : "I usually use Quizlet to promote students' independent learning, I also ask students to practice vocabulary/ chunk of sentences that they have learned in previous lessons.
Finally, I use it during the lesson as a plenary "Quizlet Live" which is a competitive game  to create  fun and engaging learning."
shared by Ms N. Benhalima (Westminster Academy, Teacher (Arabic, French).
Assessment and Accreditation
Avant Assessment / Seal of Biliteracy
The British Council and QFI are piloting a new initiative with Avant assessment and the Seal of Biliteracy.
This pilot will involve up to 200 Arabic learners of all levels sitting an assessment and getting an accreditation based on the CEFR. We believe that this will have benefits for pupils in terms of motivation and also for teachers as it will give them a detailed diagnostic report on their pupils. Many state schools, school districts and supplementary schools in the US use this test.
Look out for the results of the pilot later in the year.
You can read more about the Seal of Biliteracy in the HHCL Zone:
in the section there called Assessment and Accreditation#
Research summaries from OASIS
The Open Accessible Summaries In Language Studies (OASIS) initiative aims to make research findings on language learning and teaching available and accessible to a wide audience.
OASIS summaries are one-page descriptions of research articles on language learning, language teaching, and multilingualism that have been published in peer-reviewed journals listed on the Social Science Citation Index or the Arts and Humanities Citation Index. The summaries provide information about the study's goals, how it was conducted, and what was found, and are written in non-technical language. Where relevant, they also highlight findings that may be of particular interest to language educators, although the initiative is not solely aimed at research with immediate practical implications. The summaries are generally approved, and often (co-)written, by the author(s) of the original journal article.
Reading list 1: Recommended articles in the Language Learning Journal
Here, Dr Judith Rifeser (Deputy HMO ALL/ Goldsmiths, University of London) provides a short reading list for Arabic language teachers.
The Language Learning Journal is the official journal of the Association for Language Learning. It is an open access journal by Taylor Francis that publishes international research on the teaching and learning of languages, pedagogy and multilingualism and multiculturalism. ALL members have access to the journal as a member benefit. ALL Language Learning Journal page: https://www.all-languages.org.uk/research-practice/language-learning-journal-llj/
You and/or your school can join to become an ALL member here which provides access to the full range of benefits that ALL has to offer. We also offer corporate membership: https://www.all-languages.org.uk/join/become-a-member/
Within the ALL Language Learning Journal links, the DOI (Direct Object Identifier) will lead directly to the article, if you are an ALL Member.
Anderson, J.  (2011) Reshaping pedagogies for a plurilingual agenda. In: Language Learning Journal. 39:2 pp. 135-147. https://doi.org/10.1080/09571736.2011.573683
Anderson, J. (2008) Towards integrated second language teaching pedagogy for foreign and community/heritage languages in multilingual Britain. In: Language Learning Journal. 36:1 pp. 79-89. https://doi.org/10.1080/09571730801988553
McPake, J., Tinsley, T. and James, C. 2007. Making provision for community languages: Issues for teacher education in the UK. The Language Learning Journal, 35(1) pp. 99–112. https://doi.org/10.1080/09571730701317705
Ros i Solé, C. (2013) Cosmopolitan speakers and their cultural cartographies. In: The Language Learning Journal, 41:3 pp. 326-339, DOI: 10.1080/09571736.2013.836349
McPake, J., Tinsley, T. & James, J. (2007) Making provision for community languages: issues for teacher education in the UK. In: The Language Learning Journal, 35:1, pp. 99-112, DOI: 10.1080/09571730701317705
Reading list 2: Further recommended articles and books
Here, Dr Judith Rifeser (Deputy HMO ALL/ Goldsmiths, University of London) provides a short reading list for Arabic language teachers.
Abdelhadi, R., Hameed, L., Khaled, F. and Anderson, J. (2018) Language in Art and the Work of Ali Omar Ermes. London: Goldsmiths, University of London. https://mdstmr.wordpress.com/arabic/a-resource-pack/
 Abdelhadi, R., Hameed, L., Khaled, F. and Anderson, J. (2019) Creative interactions with art works: An engaging approach to Arabic language-and-culture learning. In: Innovation in Language Learning and Teaching pp. 273-289. doi: 10.1080/17501229.2019.1579219
Al-Batal, M. (2008) The Teaching of Arabic as a Foreign Language: Issues and Directions. The American Association of Teachers of Arabic.
Al-Busaidi, F. (2015) Arabic in Foreign Language Programmes: Difficulties and Challenges. In: Journal of Educational and Psychological Studies. 9:4 pp. pp. 701-717. https://doi.org/10.24200/jeps.vol9iss4pp701-717
Alosh, M. (2000) Ahlan wa Sahlan: Functional Modern Standard Arabic for Beginners. Instructors' Handbook. Interactive Teaching of Arabic. New Haven and London: Yale University Press.
Anderson, J. & Macleroy, V. (2017) Connecting worlds: interculturality, identity and multilingual digital stories in the making. In: Language and Intercultural Communication. 17:4 pp. 494-517. DOI: 10.1080/14708477.2017.1375592
Anderson, J. & Obied/Macleroy, V. (2011) Languages, literacies and learning: from monocultural to intercultural perspectives. In: NALDIC Quarterly, 8:3, pp. 16-26.
Anderson, J. & Macleroy, V. (2015) Rethinking multilingualism: trajectories in policy, pedagogy and research in the UK. In A. Yiakoumetti (ed.) Multilingualism and Language in Education: Current Sociolinguistic and Pedagogical Perspectives from Commonwealth Countries. 243-265). Cambridge: CUP.
Bradbury, V. and Jones, A. E. (2006) The implications of bilingual education in Wales for Multilingual schools in England. NALDIC (National Association for Language Development in the Curriculum) Quarterly, 3(4) pp. 31–35.
Brown, K. and Brown, M. 2003. Reflections on Citizenship in a Multilingual World, London: CILT.
Byram, M. (1988) Rethinking foreign language teaching in the UK: What curriculum for a multi-ethnic society?. Journal of Curriculum Studies, 20(3) pp. 247–255. https://doi.org/10.1080/0022027880200304
Byram, M. (1997) Teaching and Assessing Intercultural Communicative Competence, Clevedon: Multilingual Matters
Creese, A., Bhatt, A., Bhojani, N. and Martin, P. W. (2006) Multicultural, heritage and learner identities in complementary schools. Language and Education, 20(1) pp. 23–43.  https://doi.org/10.1080/09500780608668708
Gabsi, Z., Patel, F. and Hamad, A. (2015) Trials and tribulations of Sla framework in designing Arabic courses for speakers of other languages, Journal of Education and E-Learning Research, vol. 2, no. 1, pp. 13-21. Available at: https://files.eric.ed.gov/fulltext/EJ1148710.pdf
Gass, S. (2006) Models of Second Language Acquisition. In: Wahba, K.M., Taha, Z.A. and England, L. (2006) (eds) Handbook for Arabic Language teaching professionals in the 21st Century. Mahwah, New Jersey: Lawrence Erlbaum. pp. 21-33. Available at: https://www.routledgehandbooks.com/doi/10.4324/9780203824757.ch
Macleroy Obied, V. and Grammatikopoulou, V. (2013). Meeting the Challenge of the Multicultural Classroom through Continuing Professional Development. In: NALDIC Quarterly. 13:3, pp. 7-9.
Palmer, J., (2008) Arabic diglossia: Student perceptions of the spoken Arabic after living in the Arabic speaking world. Arizona Working Papers in SLA & Teaching. 15: 81-95. Available at: https://journals.uair.arizona.edu/index.php/AZSLAT/article/view/21255/20835
Saffaf, S. and Abdel-Hay, N.  (2007) Curriculum Guide for Arabic. London: CILT, The National Centre for Languages.