Submitting a contribution to Languages Today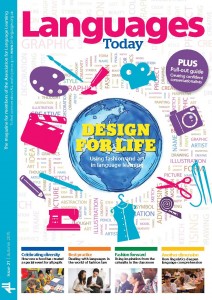 Languages Today contains news from the language teaching world; ideas to help with your teaching; reviews of teaching resources; and information about schemes and projects which may be of interest to you. We follow a day in the life of language teachers, trainers and people who use languages in their job, and we find out about how language skills are used in the workplace.
ALL welcomes previously unpublished articles and reports by readers and by all those interested in learning and teaching languages at any level in the UK and beyond. We are particularly pleased to receive contributions from members of ALL and from new authors. The target audience of the magazine consists first and foremost of busy practising teachers across all educational sectors.
We welcome contributions from authors for future issues about news and events in your school, region or sector; resources you would recommend; and issues that you feel strongly about; and reviewers to review a variety of language teaching resources for our 'Resources' section.
We also welcome the opportunity to use up-to-date photographs of teachers working with their students, from schools, colleges, higher and adult education, to help ALL to raise the profile of language teachers and students learning languages. If you have suitable photographs that we could use to show language teaching and learning, please let us know when you send us your contribution. Please send them to the Languages Today editorial team with a brief description and the name of your institution. Full permission of all subjects is required, in particular parents' permission to use images of pupils; images need to be full colour, and high resolution (minimum 300 dpi or 2,480 pixels wide), jpegs if at all possible; and let us know if we need to credit the photographer.