Guest blog by Jonathan Robinson
As we begin a new academic year, it is time to think afresh about how we utilise the classroom itself to maximise learning and student engagement in acquiring Modern Foreign Languages. A quick Google search will reveal many articles and websites offering tips and suggestions on how best to organise the classroom space and as an avid language learner, I am very conscious of how precious the learning space, i.e. the classroom, itself can be. While some classrooms can look messy, underexploited places, many teachers make fantastic use of their rooms to stimulate learning, promote key concepts, display outstanding pieces of work and present various cultures.
The classroom is a blank canvas with infinitesimal potential to inspire and engage learners at all stages of acquiring a foreign language. I shall focus on my current practice which integrates four display types, as follows:
The classroom as a space to enjoy students' work and effort
I always put a sample of work covering a range of abilities along two of the walls which I organise thematically by Key Stage. It's good to select work which is aspirational: 'This is what you could demonstrate by the end of Year 8', etc.
The photo above shows students' designs for their ideal neighbourhood with a range of buildings, streets and locations labelled and colour-coded according to grammatical gender. Alongside their designs they produced written descriptions of each area (north, east, south, west and central). All students were asked to include a simile at the end to sum up their new neighbourhood and had to use modifiers and a range of conjunctions throughout.
The photo above shows treasure maps that students created from templates I bought from 'Flying Tiger'. They loved coming up with whacky ideas and locations. Then, using directions vocabulary they described a route to the hidden treasure and invented a secret code to encipher the message.
Over the board at the front of the class I often display the names of students who have excelled in speaking. At KS4, I will put up really good annotated samples of students' work to show how they have met exam criteria, thus providing a model of good practice for other students. Where a classroom is used to teach several languages, I always keep the languages separate to avoid confusion.
The classroom as a space to promote language learning and cultures
It is really important for me that the classroom becomes an immersive cultural space. Displays can help create that with posters, maps, tourist leaflets, quotations by famous writers and language learners, flags, menus, photos of school trips, and the like. I have found EU promotional resources indispensable. To promote diversity further, I also embed Stonewall resources within my displays, including their foreign language "Some people are gay, get over it!" and literacy posters which help to promote tolerance in an integrated way, rather than as a token add-on (see photo below). I also display key technical terms from linguistics and L2 acquisition supporting literacy and serving to remind to students of the metalanguage they should use.
The classroom as a resource space for independent language study
An exciting use of displays is to create an environment in which students can find support all around them. This year I have a time travelling machine (TARDIS-inspired) on my door containing pocket guides on different tenses and moods with examples and rules – all colour coded. I try to be careful to choose colours that won't cause problems for colour-blind students and often print onto dull white or buff paper to support some visually impaired students.  (See below.)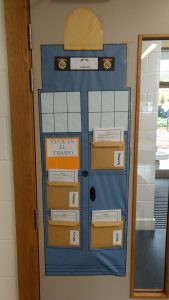 I use a mixture of pictures and words for an 'interrogative pronouns' display with the pictures on separate pieces of card, so they can be moved around and students can match them up with the correct pronoun, thereby creating a tactile display.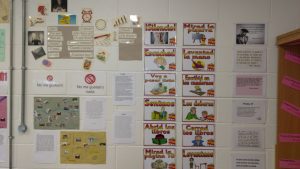 My favourite space this year has been an adjectives discovery cupboard (see below) which the students co-created. It consists of students' favourite adjectives, false friends and near cognates. Each adjective is presented in the same way, using the same colour scheme. Students need no cajoling to go and find inspiration for written work in the cupboard!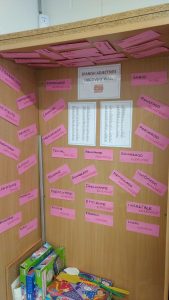 At the front of the class, I have giant posters with lots of visual stimuli which GCSE students use to practise informally for the new GCSE speaking test. Additionally, I use mid-level displays for transactional language, such as classroom instructions; and I always leave space for temporary exhibitions, such as Dalí paintings and an idioms board for A Level, as well as useful websites, book titles and film recommendations for all students and a space for students to stick post-its with questions and feedback to me.
The classroom as an inviting space to work and study
Effective displays create a space where students want to come and learn, as well as a place where I want to work. I try to change my displays twice a year, or at least move some displays around, to keep the interest alive. Near the teacher's desk, I have a range of educational posters, marking suggestions and other teacher tools (see below) which are not only an aide memoire for me, but also show the students that we are all engaged in the process of learning.
A final thought which may seem at odds with all the colour and busy-ness of what I've hitherto described is the value of leaving a discernible, empty space on the walls in our classrooms. The reason being that very colourful, highly informative displays can sometimes be counterproductive (notably for students with ADHD). The adage, less is more, is helpful here and by consciously incorporating empty space one can provide a calming, distraction-free zone, too.
For lots of inspirational ideas for preparing superb classroom displays, search for 'classroom displays' on Twitter, Pinterest and within TES resources and remember, the look and feel of the classroom is limited only by your imagination. Whether you have your own classroom, or share with another colleague or department, ask yourself today, "How will my displays engage, motivate and support language learners this year?"
Words: Jonathan Robinson, MA
Teacher of MFL at Dame Alice Owen's School, Potters Bar
Director of the Advanced Learning Teaching School Alliance
Twitter: @JonRobALA