ALL Fellows
The following long- standing and long-serving members of ALL have all been awarded an ALL Fellowship. Read about ALL's Fellows below.
Kathy Wicksteed
At Language World 2017, ALL awarded an ALL Fellowship to Kathy Wicksteed.
To read about Kathy's achievements, click here.
Steven Fawkes
At Language World 2013, ALL awarded a Fellowship to Steven Fawkes, in recognition of his lifetime contribution to languages education as a teacher, an adviser at BBC Languages, as a trainer, a truly motivational speaker, and in recognition of his long service to ALL. Steven has been a member of ALL since its inception in 1990, and has been actively involved ever since. He is the only person who has been President of ALL twice and currently serves as Honorary Membership Officer and an ALL Trustee. Steven is also Chair of ALL's World Languages Special Interest Group, and has been a prime mover in setting up our Primary Special Interest Group, and is at the heart of ALL's North East Branch.
Lid King
At Language World 2012, Lid King was awarded an ALL Fellowship. Lid has had a long career in UK languages education: as a languages teacher in secondary, higher and adult education, advanced level examiner and materials writer. Lid was Director of CILT from 1992 to 2003, and National Director for Languages from 2003 to 2011, taking forward the implementation of the National Languages Strategy for England. He co-authored with Lord Ron Dearing, The Languages Review, and has represented the UK on languages at both the European Union and The Council of Europe.
Geoff Brammall
At Language World 2016, ALL awarded an ALL Fellowship to Geoff Brammall.  Geoff is pictured here accepting his award from ALL's Chair of Trustees, René Koglbauer.  Geoff has been a long-standing member of ALL working both at national and local level. As chair of the former German Committee, he has supported teachers of German through his expertise at local, national and international conferences. He has worked closely with both the Goethe-Institut and the Austrian Cultural Institute to ensure that teachers have benefited from high quality training and cultural information through organising training days with these partners. Geoff has also worked tirelessly for ALL's Manchester Branch and continues to support it offering his expertise and experience as a teacher, examiner and an author.
William Musk
At Language World 2011, William Musk was awarded the very first ALL Fellowship in recognition of his lifetime contribution to languages education in the UK. Bill started his career as a classroom teacher, then went on to work in senior roles at Bedfordshire County Council, the Central Bureau for Educational Visits and Exchanges and the British Council. He retired in 2005 and in the same year won a German Embassy Award for his contribution to the fostering of educational links between Germany and the UK. Bill was a trustee of ALL from 1994 until 2011. He was President (2002-2005) and then Honorary Finance Officer and has played a vital role in the development of the Association over a significant number of years.
Linda Parker
At Language World 2014, Linda Parker was awarded an ALL Fellowship in recognition of her contribution to languages education and for her long service to ALL as an organisation. Linda joined ALL as Director in 2000 and steered ALL through a period of huge change in the profession. After 14 years at the helm, she retired at the end of April 2014.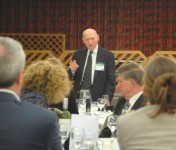 John Trim
At Language World 2012, ALL awarded an ALL Fellowship to John Trim. John was an expert in the field of phonetics, linguistics, language didactics and policy. He was director of the Council of Europe's Modern Languages Projects from 1971-1997. He set up the Department of Linguistics at Cambridge University. He has also been Director of CILT, President of the British Association for Applied Linguistics and Vice-President of the International Association of Applied Linguistics. John sadly passed away in 2013.