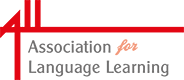 ALL Supporting Secondary Languages in cooperation with ...

An outline of the work of NCELP
Webinar (June 2021) on the Extended Project Qualification (EPQ)
Shortcut: ALL as your Secondary Career Progresses
ALL is grateful for these contributions which express the views of the individual writers and are offered to stimulate the thinking of readers. 
STALL
STALL is shorthand for 'Secondary Teachers at ALL', launched in 2021 in order to give Secondary teachers a termly opportunity to get together for some short inputs and an update online in twilight. 
STALL events are advertised through ALLNet to members.    
What we offer ALL members