Hurry, hurry... we only have a few stands left at our ever popular Conference Exhibition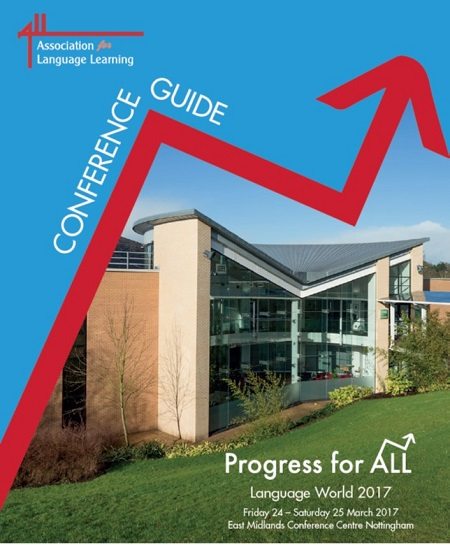 Find out how to get your message to our audience of language professionals
Language World 2017 delegates, Natalie Campbell and Nathalie Paris tell us why Language World is such a great event to attend!
Promotional Opportunities at Language World 2018
Language World is ALL's flagship annual conference and CPD event attracting up to 250 delegates a day.
Language World offers a packed programme with speakers from across the languages sector, with a large number coming from primary and secondary schools.
- It's an exhibition: a large and varied exhibition showcasing the latest in language learning resources and support
- It's a real boost to your teaching: a great way to recharge your batteries – a two day shot of ideas, advice, debate and inspiration
- It's a celebration: get together with other language teachers from around the UK, and around the world... at Language World!
The theme for Language World 2018 is Flying the Flag for Languages.
Download an Exhibitor and Sponsor Information Pack and find out how to reach our audience of dedicated language professionals.
Complete the form with details of your requirements, or simply email us.
Call us now
Prefer to chat through the options? Then give our agents KCJones a call on 01332 224504
One of the major highlights of Language World is its fantastic Exhibition, with many exhibitors returning year after year.
ALL wishes to thank all of the amazing exhibitors who will be exhibiting at Language World and on hand throughout to talk to delegates about all the latest developments in their product range, networking opportunities, resources, training, foreign travel opportunities and support they offer.
A veritable feast for any language teacher keen to keep apprised of what's on offer not just for their learners but for themselves as a  teacher or a learner!
Here's what some of our previous delegates have to say about the Exhibition at Language World:
"I spent a lot of time in the excellent exhibition and collected many goodies for a course I'll be running this year"

"Always so well organised. Love the exhibition"

"Nice to see lots of small exhibitors with interesting ideas"

"The exhibition was very useful for meeting people and exchanging ideas"

"As a head of department the whole conference and exhibition helped me come up with ideas to take my department forward"

"I loved the selection of exhibitor stands and look forward to coming to Language World again in the future"

"I made useful contacts at the exhibition and have already followed up on them."
Our venue for Language World 2018 is Jurys Inn, Hinckley Island, Leicestershire.