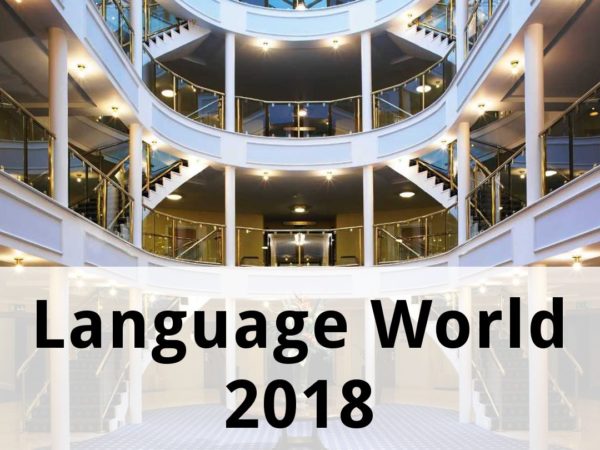 Latest news
The Association for Language Learning welcomes the 2017 Election Manifesto, 'Time for a Step Change in Teacher Training, Supply and Retention', published by UCET (Universities' Council for the Education of Teachers). René Koglbauer, Chair of Board of... read more
Events for May 2017
| Monday | Tuesday | Wednesday | Thursday | Friday | Saturday | Sunday |
| --- | --- | --- | --- | --- | --- | --- |
| | 2 | 3 | 4 | 5 | 6 | 7 |
| 8 | | 10 | 11 | 12 | 13 | 14 |
| 15 | 16 | 17 | 18 | 19 | 20 | |
| 22 | 23 | | 25 | 26 | 27 | 28 |
| 29 | 30 | 31 | 1 | 2 | 3 | 4 |
+ Export Events
Language World
Join your subject community to celebrate language teaching and learning, at Language World! Language Word 2018 will take place 23-24 March 2018 at Jury's Inn,Hinckley, Leicestershire.
Find out more
Benefit from the support and encouragement of fellow practitioners
I love the opportunities for professional development and networking, sharing good practice with like-minded colleagues from different contexts. We can learn so much from one another!
Anna Lise Gordon
Take control of your professional development
Joining ALL and becoming an active member has been very beneficial for my own professional development: I have become more involved with the Association and I have been part of a supportive network of professionals.
Karine Harrington
Join your professional community
The Association for Language Learning (ALL) is the UK's major subject association for teachers of foreign languages. We support and represent teachers of all languages in all sectors. Whether you're a languages co-ordinator in a primary school, specialist languages teacher, or working outside mainstream education, we can offer you the support you need.
Find Out More
Add your voice to your professional community
We all have opinions and would like our concerns to be heard – ALL enables this and gives weight to our arguments.
Lisa Stevens
Keep up to date with the latest news and developments
Belonging to the association helps teachers to find out important information about changes to Programmes of Study, examination board specifications and the latest research too.
Liz Black
Stay motivated with regular boosts of ideas and inspiration
I will be a member of ALL as long as I continue in teaching because the two go hand in hand. As an ALL member I am better informed, more discerning and critical, more supported and more enthusiastic in my job!
Dr Rachel Hawkes
Here you will find job listings in the field of languages education. The time shown below reflects the date the job vacancy was posted. The application deadline for the job is shown on the individual job advert, which can be viewed by clicking on the job title below.
Need to fill a vacancy in languages education? View packages
Theme of the fortnight: Transition Ease into transition with these resources to help your pupils leaving KS2 and starting KS3. ALL Connect training module: KS2/3 Transition ALL Connect: KS2/3 Transition – follow up activities ALL Connect training module: KS2/3... read more
Theme of the fortnight: Useful links to websites for Easter activities and resources: French KS1/Lower KS2 online and printable activities http://www.coindespetits.com/paques/paquesintr.htm KS2/KS3 Information about French traditions... read more
A core feature of the Language Futures approach is Building a Learning Community  which champions the role of mentoring as a way to support language learning in schools. As part of the approach, students receive personalised support from language proficient mentors... read more
Language Futures
Broadening language provision to create independent and engaged language learners
Language Futures is an exciting initiative for creative languages departments interested in developing languages beyond the classroom. It works in tandem with the languages provision already in place in school, and is not designed to 'teach' a language, but to equip students with the skills to develop as independent learners supported by school, home and a language proficient mentor from the community.
The Language Futures approach puts young people in control to create a deep sense of engagement in their learning. It helps students to feel motivated and to see the relevance of their language learning by tapping into their own personal interests and lives outside of school.
Explore Language Futures